The Probe
7 min, 2017 (360 Virtual Reality)
Written and Directed by Aldo Romero
An automated space probe named "Annie Em" encounters an extraterrestrial spacecraft on Titan. This is the story of Earth's first fully aware and functioning artificial intelligence. Too bad Earth will never know. The questions posed in this piece stretch the definitions on what is considered intelligence and fully sentient awareness.
The 3D designs of the probe spacecraft and all science are based on many of the designs of the real life space mission, theHuygens, an atmospheric entry probe that landed successfully on Saturn's moon Titan in 2005. Built and operated by the European Space Agency, it was part of the Cassini–Huygens mission and became the first spacecraft ever to land on Titan and the farthest landing from Earth a spacecraft has ever made.
This is Symbiotic Film's first 360 Virtual Reality film and has been featured at the Philip K. Dick Science Fiction Film Festival,The New York Science Fiction Film Festival and Animation Nights New York.
The probe is also on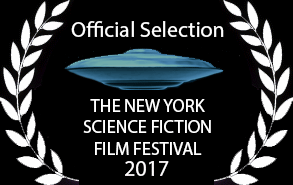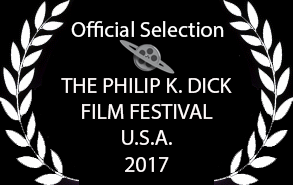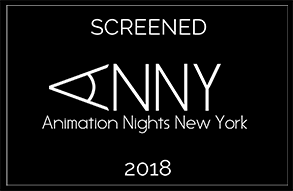 _________________________________________________________________
The Disappeared
13 min, 2015
Written and Directed by Aldo Romero
In 1992, an investigation of a case of corporate espionage leads private investigators SCATTER RODRIGUEZ and RICHARD HARDEMAN to uncover the existence of the apparitions of people reported missing called "The Disappeared". While on surveillance Scatter sees "visions" of the enigmatic beings in the form of a WOMAN IN BLACK.
Upon further investigation, Scatter and Hardeman discover the focus of the new clients is a competitor named the ZENAX CORPORATION and its interest involving materials recovered from the crash, called "Roswell Glass", and contained exotic matter from a UFO. When Scatter follows the lead to a local ex military man named TOP NILES, whom he had seen during the surveillance, the mystery only deepens with an astounding discovery, which propels Scatter into a world he never imagined.
"The Disappeared" was also featured at the 2015 PhilpK. Dick Film Festival Europe in Łódź, Poland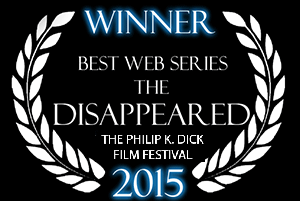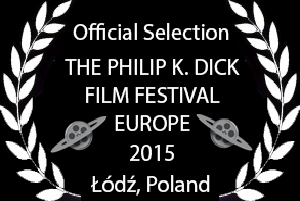 _________________________________________________________________
Silent Threat: Prelude
16 min, 2013
Written and Directed by Aldo Romero
Silent threat tracks the stories of different characters who use a social media website for UFO abductees called "Silent Threat".
A former reporter named Pete Winston tells the story of a "Roswell" type incident in which he comes wreckage of an extraterrestrial space craft shot down over Iowa by a laser satellite in 1986. After being censured by the military, Pete joins the social media site for UFO abductees called "Silent Threat" 30 years later in order to record his story as a video testimonial. While telling his story, Pete also tracks several other characters on the Silent Threat site named , Ted Williams of Brooklyn New York and Maria Suarez in Ozone Park New York and their stories of encounters with extraterrestrials.
Silent Threat was chosen among thousands of film projects to be developed in the "producers lab" an the 2010 Latino Producer's Academy.
_________________________________________________________________
The Secret Life of Coins
3 min, 2009
Written and Directed by Aldo Romero
A quarter dollar tries to find love in the form of a tootsie roll in a local disco populated by a community of inanimate objects under a bed in a New York apartment. A cast of objects ranging from candy bars and a variety of coins populate this world with locations ranging from a New York Apartment to a local Bank.
What do inanimate objects do when their living hosts are not around? What do coins do when their human owners leave the house? These are questions posed by this whimsical animated film short. Initially conceived of as a spec television spot for coin-star, the project expanded as the story line grew. "The point of the exercise is to see how much of a storyline can be injected into inanimate object," was the question posed by director, Aldo Romero.
| | | |
| --- | --- | --- |
| OFFICIAL SELECTION | | |
_________________________________________________________________
Storage Unit # 57
21 min, 2006
Written and Directed by Aldo Romero
Produced by Aldo Romero, Suzanne Sitelman & Jovannei Arroyo
STORAGE UNIT #57 is the story of IZZY, a storage facility worker with inner demons. Frustrated by the separation with his wife and the monotony of his job, Izzy begins to see apparitions in a storage locker labeled storage unit # 57. One night, Izzy receives a phone call from a mysterious character named REED who hires Izzy to deliver packages for him. When Izzy enters the storage unit and finds the package, he encounters the apparition of a bloody woman standing by a crate with something living inside!
When Izzy discovers that Nancy is not an apparition, but still very much alive, he realizes that there is a supernatural connection between this phantom of a dead man and a girl named Nancy who turns out to be his daughter. Izzy develops a relationship with Nancy after saving her during a robbery. But the relationship takes a bizarre turn when the supernatural apparition of Reed returns to haunt him.
"Finally, a great indie horror film!" Jackie Lewis - Film Fan
| | | |
| --- | --- | --- |
| | | |
_________________________________________________________________
Resurgence
18 min, 2004
Directed by Aldo Romero and Kendall Brown
RESURGENCE is a documentary which serves as a reflection of New York as a city a in the aftermath of 9/11. Slam poetry is juxtaposed over still images and video footage to convey the feelings and political atmosphere of New York during the crisis. Filmed weeks after the attacks, RESURGENCE utilizes imagery and slam poetry to convey the pain, anger, sadness and conviction towards a resolve of individual New Yorkers as Americans.
Much of the footage, filmed during in the days and weeks after the attacks capture the feeling of New Yorkers at the time. Much of the footage was shot at Union Square as an improvised vigil formed there when a college student began to draw on the ground of the park. Passersby began to get involved and accelerate what was started by the student with drawings and writings. This evolved into the infamous "Union Square Vigils" which turned into a cultural event which included music and performance in this gathering of artists, musicians and anyone needing to express themselves. It was the ultimate expression of democracy. What had its origins in one of the most tragic events in American History evolved into a rebirth or resurgence. It reaffirmed the positive rather than the negative.

The Poetry is performed by the acclaimed slam poet, Sharrif Simons, who has appeared on HBO's "Def Poetry Jam". Many social and political themes emerge in the subtext of the piece through the pulsating slam poetry of Mr. Simmons.
For a streaming video trailer
CLICK HERE
Resurgence is available on DVD or streaming on: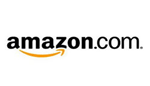 _________________________________________________________________
Simulator

12 min, 2001
Written and Directed by Aldo Romero
"SIMULATOR" is a science fiction thriller in the tradition of "Twilight Zone" about a computer game that becomes too real when elements of its artificial intelligence become self aware, the prerequisite for true intelligence. LIZ is the estranged girlfriend of "TOM, THE USER", a computer designer who has developed an interactive computer game called SIMULATOR. Now that the relationship has ended, Liz returns to Tom's loft to extract the password to their mutual bank account so she may retrieve her half of her investment in the game. Unable to access the password after an argument with Tom, She comes across the simulator game and begins to play it. As she becomes more intrigued by Simulator, she discovers that the game mimics her and the environment around her. This includes a life sized promotional mock up of a robot named DRAX. As Liz begins to play simulator, the games artificial intelligence becomes self aware and begins to control the robot body and begins to stalk Liz. Liz attempts to escape the stalking robot only to meet an unexpected fate.
Simulator was featured as part of the PBS series, 'REEL NEWYORK" in 2001.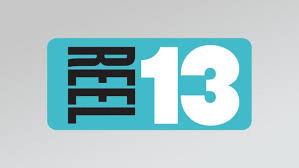 _________________________________________________________________
All rights reserved.